[[wysiwyg_imageupload:17821:]]
Diamond Comics has released their early numbers for sales for the month of October where Robert Kirkman's The Walking Dead #132 takes the #1 spot of the top ten.
Marvel dominates with seven spots overall to DC Comics' two, and Marvel wins in both the amount of comics sold and retail share.
Comic book and graphic novels sales are also up in October compared to September, as well as compared to October of 2013.
We see DC pretty much went back to normal following last month's 3D cover gimmick.
Image Comics also managed to pick up some ground work jumping to over 12% of the comics sold compared to about 8% last month.
Check out the complete charts:
TOP COMIC BOOK PUBLISHERS
RETAIL MARKET SHARE

PUBLISHER

SHARE

MARVEL COMICS

34.82%

DC ENTERTAINMENT

27.53%

IMAGE COMICS

9.77%

IDW PUBLISHING

5.18%

DARK HORSE COMICS

4.74%

DYNAMITE ENTERTAINMENT

2.60%

BOOM! STUDIOS

2.39%

ARCHIE COMIC PUBLICATIONS

1.19%

AVATAR PRESS INC

1.18%

EAGLEMOSS PUBLICATIONS LTD

1.17%

OTHER NON-TOP 10

9.43%

 

UNIT MARKET SHARE

PUBLISHER

SHARE

MARVEL COMICS

36.35%

DC ENTERTAINMENT

31.00%

IMAGE COMICS

12.28%

IDW PUBLISHING

3.94%

DARK HORSE COMICS

3.25%

BOOM! STUDIOS

2.26%

DYNAMITE ENTERTAINMENT

2.00%

AVATAR PRESS INC

1.25%

ARCHIE COMIC PUBLICATIONS

1.20%

TITAN

1.05%

OTHER NON-TOP 10

5.43%
NEW TITLES SHIPPED
| | | | | |
| --- | --- | --- | --- | --- |
| PUBLISHER | COMICS SHIPPED | GRAPHIC NOVELS SHIPPED | MAGAZINES SHIPPED | TOTAL SHIPPED |
| DC ENTERTAINMENT | 109 | 34 | 1 | 144 |
| MARVEL COMICS | 94 | 45 | 1 | 140 |
| IMAGE COMICS | 72 | 17 | 0 | 89 |
| DARK HORSE COMICS | 38 | 34 | 0 | 72 |
| IDW PUBLISHING | 47 | 25 | 0 | 72 |
| BOOM! STUDIOS | 38 | 9 | 0 | 47 |
| DYNAMITE ENTERTAINMENT | 38 | 9 | 0 | 47 |
| ARCHIE COMICS | 16 | 5 | 0 | 21 |
| AVATAR PRESS | 17 | 2 | 1 | 20 |
| TITAN COMICS | 9 | 4 | 5 | 18 |
| OTHER NON-TOP10 | 112 | 190 | 48 | 350 |
COMPARATIVE SALES STATISTICS
 

DOLLARS

UNITS

OCTOBER 2014 VS. SEPTEMBER 2014

COMICS

6.30%

9.64%

GRAPHIC NOVELS

21.30%

25.98%

TOTAL COMICS/GN

10.45%

10.69%

OCTOBER 2014 VS. OCTOBER 2013

COMICS

10.84%

10.14%

GRAPHIC NOVELS

12.90%

6.28%

TOTAL COMICS/GN

11.46%

9.85%

YEAR-TO-DATE 2014 VS. YEAR-TO-DATE 2013

COMICS

3.64%

-0.66%

GRAPHIC NOVELS

5.31%

5.13%

TOTAL COMICS/GN

4.15%

-0.22%
TOP 10 COMIC BOOKS
| | | | | |
| --- | --- | --- | --- | --- |
| RANK | DESCRIPTION | PRICE | ITEM CODE | VENDOR |
| 1 | THE WALKING DEAD #132 (MR) | $2.99 | AUG140566-M | IMA |
| 2 | DEATH OF WOLVERINE #4 | $4.99 | JUN140603-M | MAR |
| 3 | THOR #1 | $3.99 | AUG140777-M | MAR |
| 4 | DEATH OF WOLVERINE #3 | $4.99 | JUN140602-M | MAR |
| 5 | AVENGERS AND X-MEN: AXIS #1 | $4.99 | AUG140718-M | MAR |
| 6 | BATMAN #35 | $4.99 | AUG140268-M | DC |
| 7 | AMAZING SPIDER-MAN #7 | $3.99 | AUG140795-M | MAR |
| 8 | AMAZING SPIDER-MAN #8 | $3.99 | AUG140800-M | MAR |
| 9 | HARLEY QUINN ANNUAL #1 | $5.99 | AUG140294-M | DC |
| 10 | AVENGERS AND X-MEN: AXIS #2 | $3.99 | AUG140728-M | MAR |
TOP 10 GRAPHIC NOVELS & TRADE PAPERBACKS
| | | | | |
| --- | --- | --- | --- | --- |
| RANK | DESCRIPTION | PRICE | ITEM CODE | VENDOR |
| 1 | MS. MARVEL VOLUME 1: NO NORMAL TP | $15.99 | JUN140725 | MAR |
| 2 | HAWKEYE VOLUME 3: L.A. WOMAN TP | $15.99 | MAY140930 | MAR |
| 3 | BATMAN VOL. 4: ZERO YEAR: SECRET CITY TP (N52) | $16.99 | JUL140237 | DC |
| 4 | EAST OF WEST VOLUME 3: THERE IS NO US TP | $14.99 | JUL140478 | IMA |
| 5 | BATMAN VOL. 5: ZERO YEAR: DARK CITY HC (N52) | $24.99 | JUN140264 | DC |
| 6 | SOUTHERN BASTARDS VOL. 1: HERE WAS A MAN TP (MR) | $9.99 | JUL140517 | IMA |
| 7 | HARLEY QUINN VOLUME 1: HOT IN THE CITY HC | $24.99 | JUN140279 | DC |
| 8 | AMAZING SPIDER-MAN VOL. 1: THE PARKER LUCK TP | $17.99 | JUL140726 | MAR |
| 9 | MOON KNIGHT VOLUME 1: FROM THE DEAD HC | $17.99 | JUL140728 | MAR |
| 10 | BATMAN: DEATH OF THE FAMILY BOOK & JOKER MASK SET | $39.99 | MAY140361 | DC |
TOP 10 BOOKS
| | | | | |
| --- | --- | --- | --- | --- |
| RANK | DESCRIPTION | PRICE | ITEM CODE | VENDOR |
| 1 | HANSEL & GRETEL HC | $16.95 | JUL141687 | RAN |
| 2 | LEGEND OF ZELDA: HYRULE HISTORIA HC | $34.99 | SEP120055 | DAR |
| 3 | DOCTOR WHO MAD LIBS | $3.99 | JUL141663 | PUT |
| 4 | THE WALKING DEAD BOOK 5: DESCENT HC | $25.99 | AUG141936 | STM |
| 5 | PRINCESS MONONOKE: THE FIRST STORY HC | $34.99 | AUG141763 | VIZ |
| 6 | UNCANNY X-MEN 100 PROJECT TP | $12.99 | JUL141291 | HER |
| 7 | THE SHADOW DOUBLE NOVEL VOL 88 SC | $14.95 | AUG141926 | SAN |
| 8 | NEIL GAIMAN: FORTUNATELY THE MILK SC | $5.99 | JUL141684 | HAR |
| 9 | BATMAN: A YEAR-BY-YEAR VISUAL CHRONICLE HC | $50.00 | JUL141641 | DK |
| 10 | THE WALKING DEAD NOVEL BOOK 4: THE FALL OF THE GOVERNOR PART 2 SC | $14.99 | AUG141935 | STM |
TOP 10 TOYS
| | | | |
| --- | --- | --- | --- |
| RANK | DESCRIPTION | ITEM CODE | VENDOR |
| 1 | BATMAN BLACK & WHITE: HARLEY QUINN STATUE (SECOND EDITION) | MAR140302 | DC |
| 2 | DC COMICS COVER GIRLS: HARLEY QUINN STATUE (SECOND EDITION) | APR140329 | DC |
| 3 | BATMAN 75TH ANNIVERSARY ACTION FIGURE 4-PACK SET 1 | MAY140418 | DC |
| 4 | BATMAN BLACK & WHITE STATUE: ZOMBIE BATMAN BY NEAL ADAMS | APR140318 | DC |
| 5 | DC COMICS: THE NEW 52: JUSTICE LEAGUE 7-PACK BOX SET | NOV138235 | DC |
| 6 | MARVEL SELECT: DEADPOOL ACTION FIGURE | MAR101468 | DST |
| 7 | GUARDIANS OF THE GALAXY: ROCKET RACCOON ARTFX+ STATUE | APR142092 | KOT |
| 8 | DC COMICS ICONS: SUPERMAN 1/6-SCALE STATUE | MAR140304 | DC |
| 9 | ARKHAM ORIGINS: DEATHSTROKE/THE JOKER/COPPERHEAD 3-PACK | MAR140311 | DC |
| 10 | BATMAN ARKHAM CITY: BATMAN ARTFX+ STATUE | MAR142128 | KOT |
TOP 10 GAMES
| | | | |
| --- | --- | --- | --- |
| RANK | DESCRIPTION | ITEM CODE | VENDOR |
| 1 | MONOPOLY: THE WALKING DEAD SURVIVAL EDITION | OCT128266 | USA |
| 2 | MARVEL DICE MASTERS: UNCANNY X-MEN | JUN142654 | NEC |
| 3 | MAGIC THE GATHERING TCG: KHANS OF TARKIR BOOSTER PACKS | AUG142826 | WIZ |
| 4 | RISK: THE WALKING DEAD SURVIVAL EDITION | OCT128267 | USA |
| 5 | DC HEROCLIX: WAR OF LIGHT: ALTERNATE LANTERNS | JUN142653 | NEC |
| 6 | MARVEL DICE MASTERS: UNCANNY X-MEN STARTER SET | JUN142655 | NEC |
| 7 | ADVENTURE TIME CARD WARS PACK 3: PRINCESS BUBBLEGUM VS. LUMPY SPACE PRINCESS | JUN142617 | CRY |
| 8 | DC HEROCLIX: WAR OF LIGHT BOOSTER BRICK WAVE 2 | MAY142842 | NEC |
| 9 | RISK LEGACY | JUN118204 | HAS |
| 10 | MAGIC THE GATHERING TCG: KHANS OF TARKIR FAT PACK | AUG142828 | WIZ |
Dollar Market Share – October 2014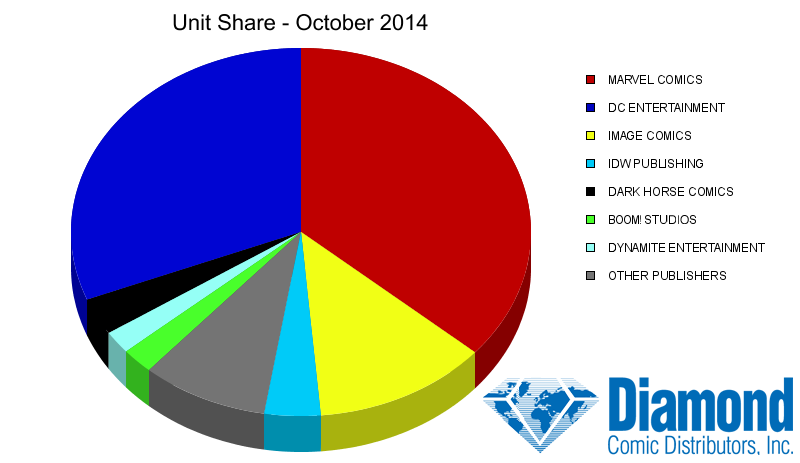 Unit Market Share – October 2014