Wonder Woman Gal Gadot happens to be the big draw for audiences in Batman Vs. Superman.
The LA Times caught up with Gal Gadot prior to her big debut tomorrow (and tonight) where she discussed battling Doomsday and more.
You know Wonder Woman, she's amazing. I love everything that she represents and everything that she stands for. She's all about love and compassion and truth and justice and equality and she's a whole lot of woman. For me, it was important that people can relate to her. Being all that, I wanted her not to be too, ah, "goody two shoes." I wanted her to have this attitude. I wanted her to have a smirk when she fights Doomsday. I didn't want her to be too polished. I wanted to make her a little bit darker, a little bit dirtier. In the sense that, yes, she's still all of these amazing things. But she's been around, she's very experienced and she has her own fight.
On the scene where Wonder Woman smiles while battling Doomsday:
I did that. I remember after we did that take, Zack came to me and he said, "Did you just have a smirk?" I said "Yeah." And he asked, "Why? I think I like it, but why?" "Well if he's gonna mess with her, then she's gonna mess with him. And she knows she's gonna win." At the end of the day Wonder Woman is a peace seeker. But when fight arrives, she can fight. She's a warrior and she enjoys the adrenaline of the fight.
Gal Gadot also mentions the difference between the Wonder Woman we'll see in Batman Vs. Superman and the Wonder Woman in the 2017 Patty Jenkins standalone movie.
There's only so much I can say. But ... the Wonder Woman you're going to see in "Batman v Superman" is a very different Wonder Woman that you will see in the standalone movie. The Wonder Woman that you see in "Batman v Superman" is a woman who has been around, and she's very experienced. She understands a lot about man. Whereas in the standalone movie we are telling the grown-up story. Diana becoming Wonder Woman, and this was a story that was never told before. When she starts this journey, she's very pure. She's more naive, she's this young idealist who does not really understand the complexities of life and the complexities of men.
Two new Wonder Woman movie images have been released: one a WWI photo with Chris Pine and the other features Gal Gadot with the Amazons.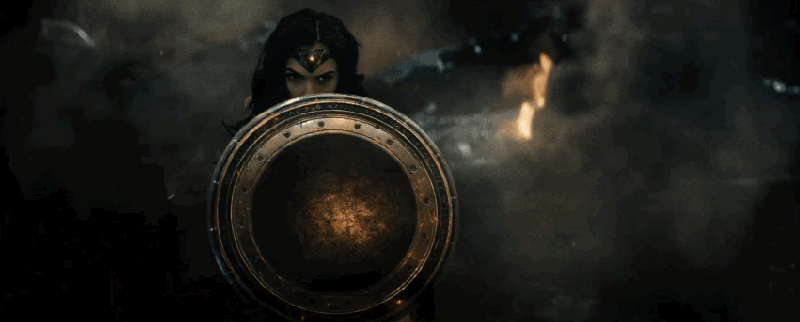 "Batman v Superman: Dawn of Justice" has a March 25, 2016 release directed by Zack Snyder starring Ben Affleck as Batman, Henry Cavill as Superman, Gal Gadot as Wonder Woman, Amy Adams as Lois Lane, Laurence Fishburne as Perry White, Diane Lane as Martha Kent, Jeremy Irons as Alfred, Jesse Eisenberg as Lex Luthor, Ray Fisher as Cyborg with Callan Mulvey, Holly Hunter as Senator Finch and Tao Okamoto as Mercy Graves. 
Synopsis:
Fearing the actions of a god-like Super Hero left unchecked, Gotham City's own formidable, forceful vigilante takes on Metropolis's most revered, modern-day savior, while the world wrestles with what sort of hero it really needs. And with Batman and Superman at war with one another, a new threat quickly arises, putting mankind in greater danger than it's ever known before.